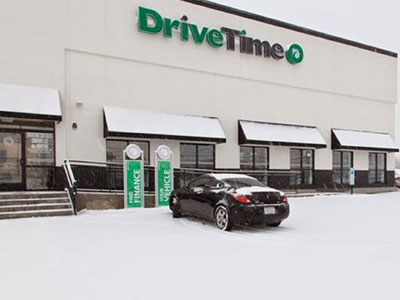 DriveTime is a nationwide car dealership and finance company. Headquartered in Phoenix, Arizona, the company operates dealerships across the country. When the company expanded into Cleveland, KS Associates was called upon to provide surveying, site planning, and design services for two new locations — one in Parma on Brookpark Road and one in Maple Heights on the corner of Warrensville Center Road and Rockside Road.
For the assignment in Parma (2.8 acres), KS Associates worked directly with DriveTime's architectural firm WHN Architects. Services included providing site plans for the parking lot and entrance, and demolition of an existing building. KS Associates also performed a topographic and ALTA/ACSM Land Title Survey for design, parcel consolidation, and staking services during construction. This dealership opened in June 2014.
The assignment in Maple Heights (1.88 acres) is on the Bedford Auto Mile and opened in July 2015. For this project, KS Associates worked with the architectural team to provide the following services: boundary, parcel consolidation and topographic surveys; preliminary site engineering; stormwater pollution prevention plans; site grading and drainage plans, storm water management design, erosion and sediment control; and final improvement plans. Our team recommended horizontal directional drilling (HDD) for the storm sewer installation across Rockside Road, which helped to reduce the cost of the project.
The Maple Heights site was particularly challenging, as it is located in two communities – the Cities of Maple Heights and Bedford. This required coordination with two city governments, representing the client at each municipality's planning commission meetings, and obtaining approvals of site plans by two City Engineers. Despite the challenge, KS Associates delivered final site plans according to schedule.
KS Associates also assisted with bidding and construction phase services for the projects.