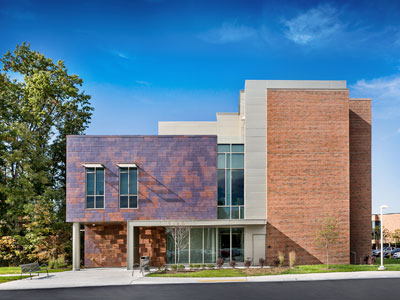 KS Associates provided site planning, design, and LEED consulting services for the Lorain County Community College Laboratory Sciences Building. Now constructed, the building provides much-needed instructional laboratory space and classrooms to serve the growing LCCC student population.
KS Associates' site plan addressed grading, new and existing utilities, water lines, sanitary sewer systems,  stormwater management, parking, and drainage.
One of the greatest challenges of this project was the limited, 3.77-acre site on which the new three-story building was constructed. The site is surrounded by parking facilities, wooded areas and the Health Sciences Building.
To preserve the integrity of the new building's proposed LEED features, our design team developed a stormwater management solution that uses a bioswale to provide the required stormwater quality and volume.
Our team also worked closely with LCCC facilities personnel and the architect to identify the impact to and displacement of the existing parking, due to the new building location.
The building is LEED certified at the Silver level.
Photograph courtesy of Weber Murphy Fox (WMF), Architect of Record.