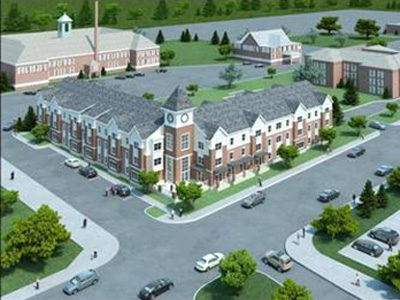 The Library Court Senior Housing project is a $7.3 million low-income housing development located north of Chagrin Boulevard and Chelton Road in Shaker Heights, adjacent to the Shaker Heights Public Library. Working with the architect, KS Associates was authorized to provide civil engineering and surveying services for the development of 44 apartments for residents who are at least 55 years old.
KS Associates provided site design services, which commenced with preliminary design plans and an Opinion of Probable Costs. Preliminary plans addressed site issues such as zoning, grading, utility infrastructure, parking requirements, and regulatory compliance — particularly with the stringent Ohio Environmental Protection Agency (OEPA) NPDES permit.
After addressing multiple stakeholder concerns and obtaining plan approval from the City of Shaker Heights, KS Associates developed final improvement plans. These construction documents included demolition, grading, utilities, building site, and parking facilities improvements; stormwater management design; and stormwater Pollution Prevention Plans (SWP3) for pre/post construction. KS Associates also assisted the client with bidding and construction phase services.
Surveying services included a boundary survey and parcel split, an ALTA/ACSM Land Title Survey, a topographic survey for reconfigured parking areas around the Shaker Heights Library and Community Center, soil boring locations, and construction staking.