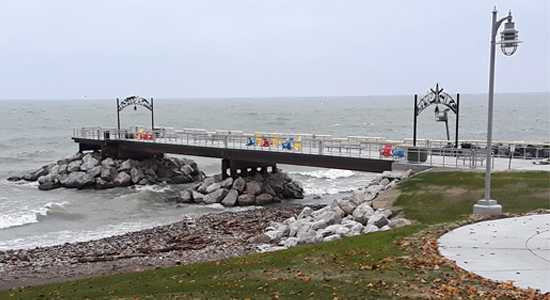 KS Associates is under contract with Cleveland Metroparks to provide engineering and surveying services under a five-year General Engineering Services contract. The contract calls for various assignments throughout the park district. One of those assignments was the design of a new observation pier and access paths at Euclid Beach Park, once home to Cleveland's beloved Euclid Beach Amusement Park.
KS's scope of services included: assistance in selecting the Construction Manager at Risk, topographic and bathymetric surveying, preliminary planning, schematic design, construction observation during the demolition of the former Euclid Beach Pier, design development, environmental permitting, preparation of 50% construction documents for use by the Construction Manager at Risk in development of a Guaranteed Maximum Price, and preparation of 100% plans and specifications.
The project was constructed using the Construction Manager at Risk project delivery method with Nerone and Sons, Inc. The remnants of the old Euclid Beach Amusement Park Pier were demolished in November 2016. Construction of the new pier commenced in 2018 and is complete.
On May 22, 2019, KS Associates attended the ribbon cutting ceremony, celebrating the grand opening of the pier.  Read more.
See the contractor driving piles during construction of the pier: