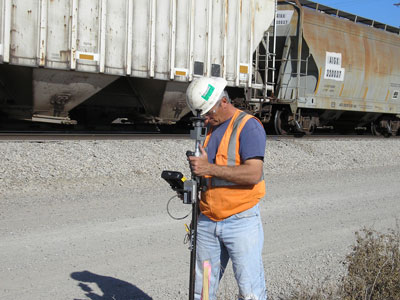 KS Associates provided extensive surveying and mapping services for a $160 million project that nearly doubled the size of Norfolk Southern Railway Co.'s Moorman Rail Yard.
The Moorman Rail Yard is a major freight center for Norfolk Southern, moving freight to New York, Philadelphia, Chicago, St. Louis, and as far south as Atlanta. The $160 million expansion project doubled the yard's capacity, making it the only one of Norfolk Southern's 12 major yards able to classify and sort rail cars from two tracks simultaneously. The project included adding 39 miles of new track, 22 diesel-powered generators for backup power, and three new buildings.
KS provided surveying services to Michael Baker Jr. Inc. over a span of five years, logging more than 12,000 man hours. This was a fast-track project, requiring the deployment of multiple survey crews. Surveyors established control points and bench marks. They pinpointed the locations of existing site features throughout the entire 500-acre site, including tracks, tie-ins, manholes, inlets, catch basins and utilities. KS then used the collected data to create topographic maps of existing site conditions, which served as the basis for design.
Under a separate contract, KS performed construction layout staking services for construction management firm STV, Inc. This included staking for site grading, utilities, and tracks, as well as as-builts to confirm the accurate location of new tracks. Multiple survey crews were deployed simultaneously to meet the aggressive schedule — over weekends, at nighttime, or on short notice — to help move the project forward.
In 2015, the project received a 2015 Best Projects Merit Award from ENR-Midwest. Safety was among the key deciding factors in the selection. Safety is always a top priority; however, an active rail yard posed unique safety concerns. KS took special care to conduct work as efficiently as possible without compromising the safety of surveyors or railroad personnel. In addition, all field crews and survey technicians underwent background checks and obtained E-Railsafe and Federal Railroad Administration Roadway Worker Protection certifications. KS is proud of the fact that not a single safety incident occurred on this sizeable survey assignment in a busy rail yard.