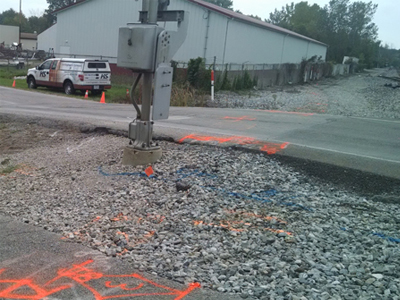 The City of Vermilion experienced a water main break on Douglas Street within the Norfolk Southern Railroad Right-of-Way, near active tracks. KS Associates performed detailed design and secured all necessary permits to replace this critical section of water main.
KS Associates assisted the Water Department in isolating the broken section of water main to avoid compromising the railroad tracks, then worked with Norfolk Southern Railroad to expedite the right of entry. After the entry permit was secured, the field survey was performed.
KS Associates prepared the Railroad Application for Pipe Occupancy as well as engineering drawings for an 8-inch ductile iron pipe installed within a 16-inch steel casing pipe. The water main casing was installed by jack and bore method across the Right-of-Way. KS Associates also assisted the City with bidding, and represented the City during construction, providing crucial communications among the contractor, construction inspection firm, and the City.
The Contractor took great care to avoid two fiber optic cables that were incorrectly field marked by the utilities. The Contractor also encountered an undocumented 4-inch water service, as well as a damaged storm sewer. KS Associates worked efficiently to avoid delay claims by communicating with the City Administration and City Council, and getting change orders approved in advance of construction activities. Construction was completed in 2016. Construction Cost: $109,189.