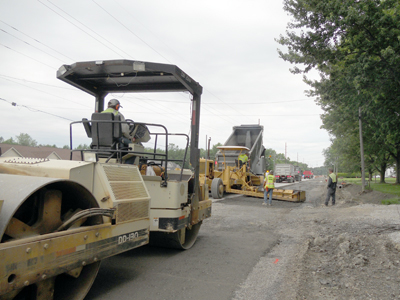 The Lorain County Engineer retained KS Associates to provide construction inspection and administration services for the Colorado Avenue Reconstruction project (LOR-611-5.66) in Sheffield Village, a $4.4 million project. Our role was to assist the County Engineer in observing the progress and quality of the work.
The project involved reconstructing and widening 2.7 miles of SR 611 / Colorado Avenue to three lanes, from the Sheffield Village west corporation line to SR 301 / Abbe Road. Plans called for adding a left turn lane and improving the intersections at Lake Breeze Road, East River Road, and Harris Road. The reconstruction also included installing a section of bikeway that connects into the Lorain County Metro Parks.
KS Associates provided full-time resident project representation at the job site. The role of KS site personnel was to assess the Contractor's compliance with the plans and specifications. Activities included documenting construction activities; communicating with project stakeholders including Sheffield Village, Lorain County, other government entities and residents; monitoring the Contractor's schedule; reviewing pay estimates; and overseeing testing subconsultants.
The project was funded in part by the American Recovery and Reinvestment Act (ARRA), and required additional Federal Highway Administration (FHWA) reporting and inspection compliance.