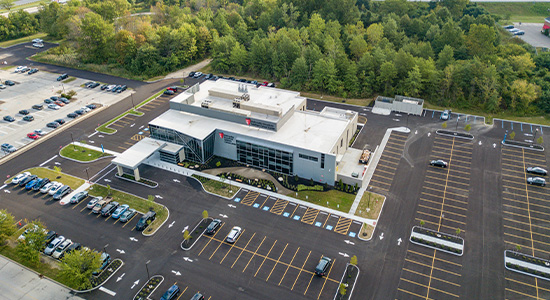 University Hospitals (UH) was considering two locations in Lorain County, Ohio, to construct a new 40,000-square-foot medical office building. Their consultant, LevelHEADS, hired KS Associates to evaluate the site-related aspects of each site. UH selected a site in Avon, Ohio, within the UH-Avon Healthway Boulevard Campus at the intersection of SR 83 and I-90. KS Associates was invited to join the design team, led by architects CBLH Design, to assist in resolving several site challenges.
The site had an existing basin that had been designed and built more than 20 years earlier. Regulations for stormwater management and water quality requirements had changed considerably over the years. KS Associates proposed to construct a new, separate drainage system that would satisfy the current regulations for the proposed new building and related parking areas. From the early stages of the feasibility analysis, the KS site design team advocated for a new system knowing that an attempt to use or adapt the existing basin would require significant modifications for current standards and several additional acres of new retention basin. The KS civil design team's approach avoided significant costs that would not have added value to the project.
To mitigate impacts to wetlands, KS Associates located the detention basin in the northeast corner of the site to avoid a heavily wooded area east of the proposed building. Our design also routed the storm sewer that outfalls into the basin to minimize impact to these wetlands.
Construction was complete in 2021.