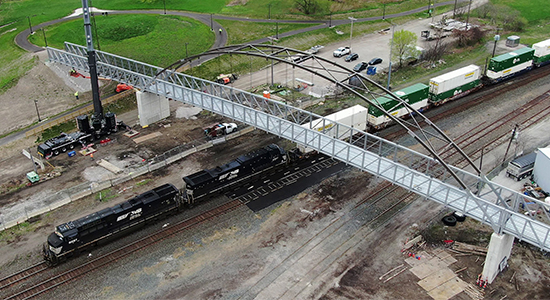 The Cleveland Metroparks Wendy Park Bridge project has won a National Recognition Award in the American Council of Engineering Companies' (ACEC) 2022 Engineering Excellence Awards (EEA) competition — referred to as the "Academy Awards of the engineering industry." KS Associates will receive the award during a black-tie gala in Washington, D.C., in May 2022.
The National Recognition Award is a prestigious distinction honoring projects that have achieved top awards for excellence at the state level. In March 2022, KS Associates accepted the ACEC Ohio Outstanding Achievement Award. A four-member panel of professional engineers and surveyors judged 26 entries. The Wendy Park Bridge project was one of eight that was chosen to receive an Outstanding Achievement Award – one tier up from an Honor Award.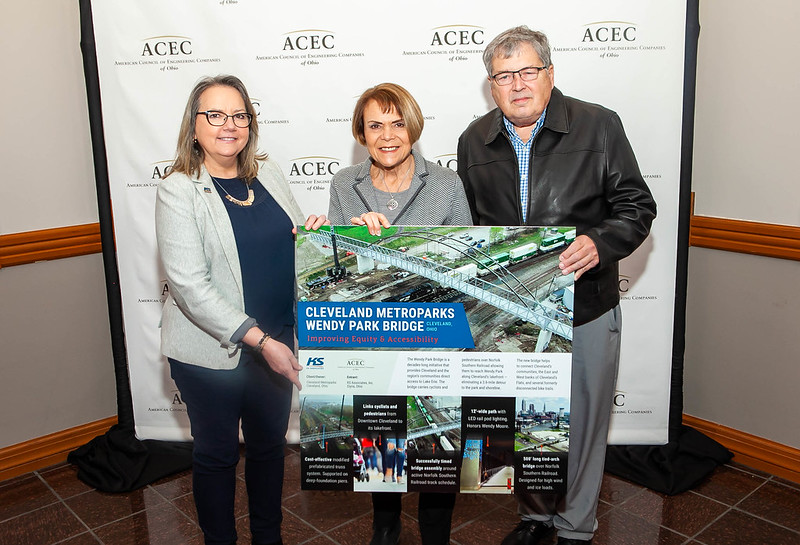 Representatives from KS Associates attended the awards luncheon in Columbus, Ohio. Shown in the photo and accepting the award are Kathy Bast, Marketing Director; Lynn Miggins, P.E., President; and Mark Skellenger, P.E., Vice President.
In 2016, KS Associates was selected by Cleveland Metroparks to design a new pedestrian bridge to provide access to Cleveland's lakefront. KS engineers developed design solutions to satisfy a budget of $6 million. The bridge was funded in part by a highly competitive Transportation Investment Generating Economic Recovery (TIGER) grant that Cleveland Metroparks received, based on its grant application entitled "Re-Connecting Cleveland: Pathways to Opportunity."
KS engineers worked with Cleveland Metroparks on several design alternatives, the chosen of which is a 500-foot-long modified prefabricated truss bridge with a tied-arch superstructure. The bridge features a south approach on approximately 400 feet of Mechanically Stabilized Earth (MSE) walls that ties into the Willow Avenue Lift Bridge, and a north approach that allows pedestrian and visitors to cross over Norfolk Southern Railroad and arrive at Wendy Park along Cleveland's lakefront.
KS engineers overcame numerous challenges to make this long-awaited project a reality, including: securing difficult-to-obtain clearances from Norfolk Southern Railroad to construct a bridge over active railway; designing a bridge to withstand high winds and ice loads during frigid Cleveland winters, and airborne salt particulate from the nearby Cargill salt mines; and developing a carefully staged sequence of construction to accommodate not only Norfolk Southern Railroad's schedule, but also a landlocked site on Whiskey Island with limited room for construction materials and equipment.
The Wendy Park Bridge project is a true public-private partnership, representing collaboration among numerous stakeholders. The bridge links more than 66,000 Cleveland residents to centers of employment, education, parks, and commerce, and provides a new link between downtown Cleveland and its lakefront.