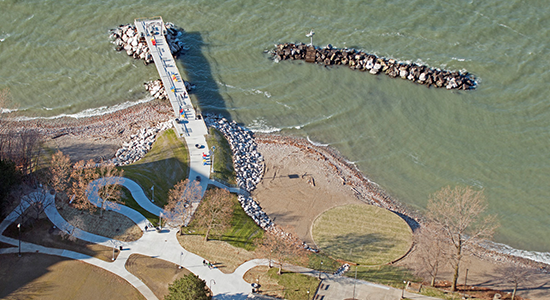 KS Associates was once again among the exhibitors at the annual Ohio Parks and Recreation Association (OPRA) Conference. The event took place February 7-9, 2022, at Kalahari Convention Center in Sandusky, Ohio.
Over the past few years, the KS Coastal Engineering Group has been working on several projects aimed at improving parks and recreational facilities. These projects include the new Tawas City Shoreline Park Pier in Tawas City, Michigan; the observation pier and access path at Euclid Beach Lakefront Park for Cleveland Metroparks; new docks, piers, and campground improvements at Seneca Lake, Charles Mill Lake, and Tappan Lake Parks for Muskingum Watershed Conservancy District; and other projects that are providing ways to better access and enjoy our parks and lakes.
Members of our team, including Mark Cencer, P.E., who leads the KS Coastal Engineering Group, shared their insight into what it takes to fund, design, permit, build, and maintain waterfront facilities.
We're looking forward to taking part in this event again in 2023! Learn more about the OPRA Conference & Trade Show.
About the Ohio Parks and Recreation Association (OPRA):
Ohio Parks and Recreation Association (OPRA) is a non-profit, public interest organization. The association represents professionals and citizen board members striving to provide quality park and recreational facilities for Ohioans while protecting and preserving Ohio's natural resources. OPRA's mission is to advance parks and recreation services through networking, education, training and advocacy, thereby enhancing the quality of life for the communities it represents. For more information about OPRA go to: www.opraonline.org.