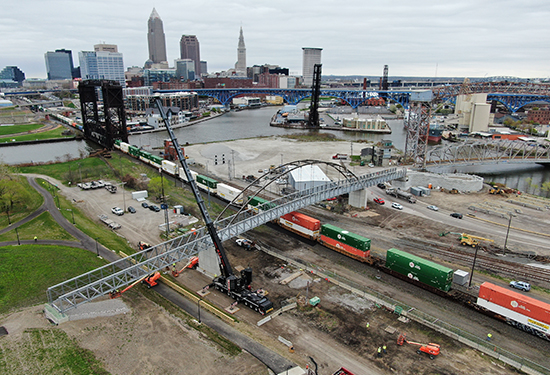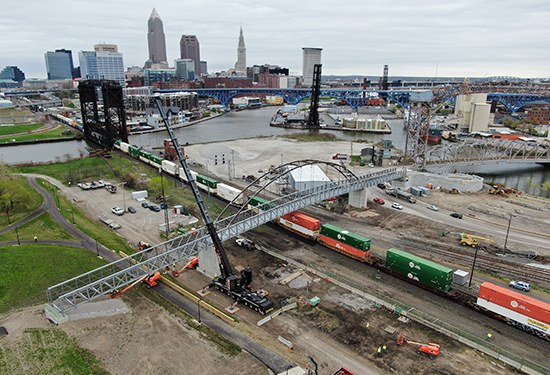 KS Associates is the Prime Consultant for the Cleveland Metroparks Wendy Park Bridge. When fully constructed, the bridge will complete the Cleveland Foundation Centennial Trail, which ties into the Towpath Trail. The bridge will provide a long-awaited route for cyclists and pedestrians to reach the Lake Erie shoreline from the Towpath Trail, the region's 101-mile hike-and-bike trail system.
The bridge connects to the Centennial Trail at the northwest corner of the Willow Avenue Vertical Lift Bridge over the Cuyahoga River. It will carry pedestrians and bicyclists over industrial properties and Norfolk Southern Railroad tracks, then terminate at Wendy Park on the south end of Whiskey Island.
The KS Team designed the 500-foot-long Pratt Truss bridge structure with a tied arch main span, and approaches on 400 feet of MSE walls. Services includes designing the bridge alignment, typical sections, abutments, at-grade bridge approaches including a retaining wall, vandal-protection fencing, hand rail, a single-slope concrete barrier drainage system for both approaches, and modifications to Salt Road and Whiskey Island Drive. The engineering team also assisted in administering a public meeting to gain valuable stakeholder feedback.
KS Associates also provided surveying and 3D laser scanning services for the project. Laser scanning offered several advantages over conventional surveying by obtaining data without setting foot on active railroad property. In addition to improving safety, laser scanning eliminated the time-consuming and costly process of obtaining a railroad right-of-entry permit. Laser scanning also provided the design team with large amounts of detail about existing conditions, helping to accelerate the project schedule and enhance the design process.