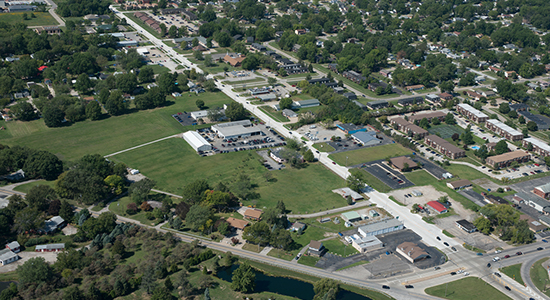 KS Associates was the Prime Consultant for design services for improvements to Cooper Foster Park Road. The road is a heavily traveled urban minor arterial running east and west along the border of the cities of Amherst and Lorain. The goals of this 1.07-mile project were to alleviate traffic congestion and improve safety.
The KS design team aligned the scope of services to meet the project's purpose, need, and budget. Work included reconstructing and widening the roadway for a continuous three-lane section with curb, sidewalk, drainage, and a culvert extension; Maintenance of Traffic (MOT); signing and pavement markings; signal and lighting design; and environmental documentation.
MOT was an important aspect of this project, due to the corridor's congestion. Most of Cooper Foster Park Road consists of two lanes; therefore, the MOT required maintaining eastbound traffic and detouring westbound traffic. A pre-phase was used to construct a portion of the storm sewers and drainage structures. The roadway, drainage structures, signal, lighting, and traffic control items were constructed utilizing a two-phase, part-width MOT scheme. Due to the amount of traffic and urban nature of the project, MOT plans required access to commercial drives and side roads at all times during construction.
The project received $2 million in NOACA funding. The remaining $1.6 million was split between the City of Amherst and the City of Lorain. Design of the project was completed ahead of schedule. Final plans were submitted to the County in April 2018. Construction of the project was awarded to Underground Utilities, which was complete in 2019.