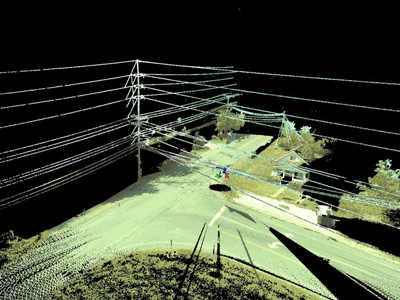 KS Associates designed a temporary traffic to safety manage detoured traffic as a result of a bridge rehabilitation project. What is unique about this project is the speed at which the design was completed and KS Associates' ability to survey the project without ever having to step into traffic — thanks to the utilization of 3D Laser Scanning technology.
In 2013, the Ohio Department of Transportation commenced construction of the replacement of a four-span bridge on the well-traveled Abbe Road over I-90 in Sheffield Village. The project required the closure of Abbe Road and the diversion of traffic to alternate State Routes. Although the intersection of French Creek Road and East River Road was not part of the planned detour, this intersection is well-known among local motorists. Subsequently, the intersection experienced a significant increase in traffic volume resulting in long waits and heightened driver frustration. Two serious accidents were reported at the intersection during the first week of the bridge closure.
KS Associates performed a traffic study, which warranted the installation of a temporary traffic signal. The first step in the signal design was to perform a survey of the intersection to update existing plans to accurately reflect existing conditions. The survey was challenging due to an inordinate amount of overhead wires. The new facilities had to clear these wires by specified amounts and new signal heads had to be in clear sight by approaching motorists.
To overcome this challenge, KS Associates deployed 3D laser scanning technology. Using the scanner, a field surveyor safety and single-handedly acquired a comprehensive scan of the intersection — in one trip to the project site and within approximately one hour.
KS Associates' traffic engineer used the scan data to design the signal, which involved positioning new poles and supporting wires through a maze of existing wires. 
The primary benefit of laser scanning on this project is the speed at which the precise location of overhead wires were obtained, which allowed construction sooner, reduced project costs and resulted in a faster delivery of a signalized intersection. In addition, the scan data gave the designer greater flexibility in determining the optimum locations for the signals and support wires. Knowing these precise locations avoided design conflicts and repeat fieldwork. 
For the right project, laser scanning can be a safe, fast and efficient alternative over conventional surveying.