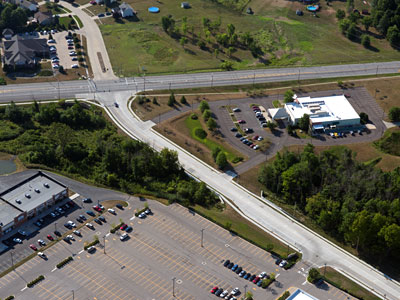 KS Associates provided surveying, designed, prepared construction plans, and provided construction-phase services for the widening and resurfacing of Jaeger Road. The goal of the project was to accommodate growth as a result of retail development and correct deficiencies in pavement, drainage, shoulders, and intersections. The project, with a construction cost of $4.6 million, improves traffic flow and provides a safer and more reliable route for the traveling public.
KS Associates provided surveying for Right-of-Way acquisitions, and prepared the necessary easements for the project.
The project included removing the existing deteriorated asphalt roadway and reconstructing it with concrete pavement, which is designed to reduce the need for future costly and inconvenient repairs; constructing more than 4,000 feet of new storm sewer with more than 80 catch basins and yard drains for improved drainage; installing five-foot sidewalks and a shared-use roadway to accommodate bicycle traffic; adding turning lanes and new traffic signals at the Kolbe Road and Leavitt Road intersections; and addressing grading at the Kolbe Road intersection to improve lines of sight, thus enhancing safety.
Minimizing traffic delays and congestion was a critical success factor for this project. Jaeger Road is a heavily traveled urban artery that provides direct access to Mercy Regional Medical Center, the City's Lighthouse Village shopping center, and residential subdivisions. To reduce traffic disruptions, KS Associates implemented an A+B bidding approach. This cost-plus-time bidding model requires contractors to bid not only on construction work items (A), but also on the number of days traffic is disrupted due to construction activities (B).
KS Associates also worked with City officials to address property owner and stakeholder concerns. Construction was completed in September 2014.