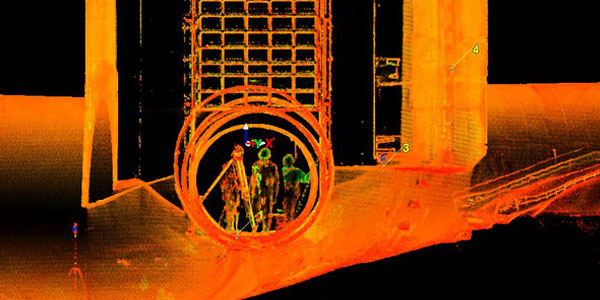 Northeast Ohio Regional Sewer District (NEORSD) is working hard to improve the quality of our waterways through a series of underground sewer infrastructure improvements. KS Associates has been supporting NEORSD and its design teams in these efforts by providing civil engineering and surveying solutions for various projects. 
One of these projects, the NWI Edgewater Park Gate Project, was particularly challenging, and 3D laser scanning proved to be an effective tool. 
The project involved replacing an inflatable dam with a more efficient sluice gate to control CSOs. KS Associates' role was to provide surveying data to the design team for design of the new sluice gate. This involved measuring 96-inch to 150-inch sewer pipes and their associated junction chamber – 55 feet below ground. 
KS Associates determined that 3D laser scanning was the best application for this complex surveying assignment. Laser scanning improved safety by allowing surveyors to perform their work faster, minimizing time spent in a confined, underground space. Also, the scanner captured an enormous amount of data – 66.5 million points – which were used to provide a realistic, 3D depiction of the complex structure. 
For the right project, 3D laser scanning can improve safety, expedite the schedule, and provide an unprecedented level of detail to propel the design process.