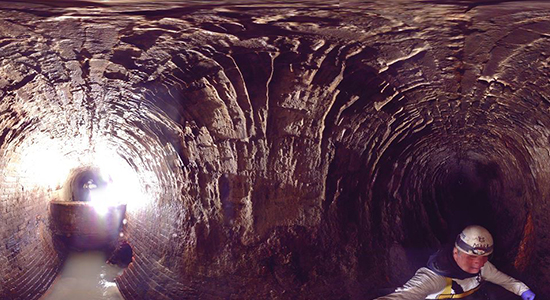 KS Associates provided surveying services as a subconsultant to McMillen Jacobs Associates, Inc., which led the design of the Northeast Ohio Regional Sewer District's (NEORSD) Shoreline Storage Tunnel (SST). This new tunnel is part of Project Clean Lake, a $3 billion, 25-year program that NEORSD began in 2011 under their Consent Decree with the Department of Justice, U.S. Environmental Protection Agency (EPA), Ohio EPA, and the Ohio Attorney General's Office, to address combined sewer overflows (CSOs). The SST is the fifth of seven new large-diameter tunnels that NEORSD will design, construct, operate, and maintain to reduce an estimated 4 billion gallons in total of annual wet weather CSOs released to Lake Erie and its tributaries in the Greater Cleveland area.
The SST is nearly three miles of 23-foot-diameter tunnel, 75 to 140 feet below ground. The tunnel was designed to capture and store overflows from CSO outfalls along the Lake Erie Shoreline, then convey these overflows to other NEORSD tunnels and sewers for treatment at the Easterly Wastewater Treatment Center.
From December 2018 through January 2021, KS Associates provided all of the surveying along the route of the proposed 14,100-foot tunnel, detailed topographic surveys at three tunnel shaft sites and four regulator sites, and internal confined space surveys of 22 regulator structures. KS Associates utilized 3D laser scanners to obtain data inside the regulators and at the Easterly Interceptor. The detailed survey data was used to design modifications to the regulators and connections to the Easterly interceptor.
Right-of-Way and property surveys were performed to align the tunnel within public Right-of-Way and to develop 63 easements at locations impacting private property.
KS Associates also designed the Maintenance of Traffic (MOT) and Stormwater Pollution Prevention (SWPP) plans at the shaft and regulator sites.