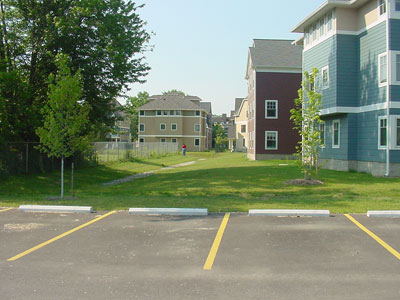 KS Associates has performed extensive site planning, design, permitting, and surveying services for Oberlin College and associated development throughout the campus. Projects have included parking lots as part of the College's program to address growing parking concerns. Projects have included:
Gray Gables Parking Area – KS Associates provided planning and design services for the Gray Gables parking area, located between two existing lots. Our design team provided preliminary alternative layouts for the College's consideration and final design documents. Final plans addressed grading, pavement and stormwater management facilities. Stormwater management requirements were provided by a sediment tank and sand filter arrangement. Additional storage volume was provided by oversizing the storm sewer pipe. KS Associates also designed the perimeter fencing to screen the existing homes (college-owned) from the new parking areas. Our team assisted the Client in obtaining construction approvals and addressing the concerns of adjoining property owners. KS Associates also provided surveying services.
Union Street Housing Parking – KS Associates provided site design services for the 5.8-acre Union Street Student Housing Project, providing housing for 121 students in 11 new buildings. The assignment included designing the parking as part of the building project.
Union Street Housing Parking – Phase 2 – This phase was the remaining parking for the Union Street Housing Project. The lot added additional parking for the surrounding housing facilities. Oberlin College students tend to park their vehicles for extended periods of time, so remote parking areas are common. This lot was designed so that runoff will sheet flow to landscaped perimeters with swales and drains. All of the flow passes through a hydrodynamic separator for its water quality treatment. KS Associates also designed the perimeter fencing to screen the adjacent homes from this lot and addressed light pollution concerns.
Kahn Building Student Housing Parking Lot Retrofit – KS Associates performed surveying and engineering services for what was originally a proposed parking facility north of Stevenson Hall on North Professor Street. The site was retrofitted for the Kahn Building Student Housing project.