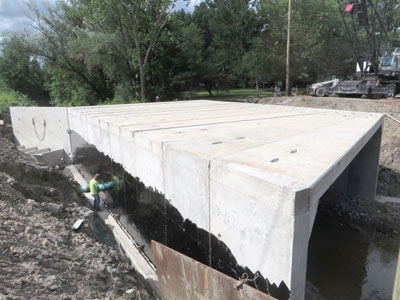 KS Associates was hired by design firm E. L. Robinson Engineering of Ohio to provide construction inspection and administration services for the replacement of the Riegelsberger Road Bridge. KS Associates served as the contact administrator, ensuring construction activities were implemented according to plans and specifications.
This $986,700 Design-Build project included the replacement of the bridge structure over the French Creek with a sectional precast single-span three-sided box culvert on a pile foundation. The project widened the bridge from 32 to 52 feet and included the addition of left turn lanes. Construction also included the full-depth replacement and widening of approach roadway, water main and utility relocation, drainage, sidewalks, and earthwork.
KS Associates' responsibilities included daily visits to the project site; maintaining clear and consistent communications with the design firm and the City to keep the parties apprised of construction progress; documenting plan changes and non-conformance with the original plans, specifications, and City and ODOT standards; generating detailed tracking sheets for out-of-scope work; and working with the design firm and the City to resolve changes. Our team also performed field surveying for the project.