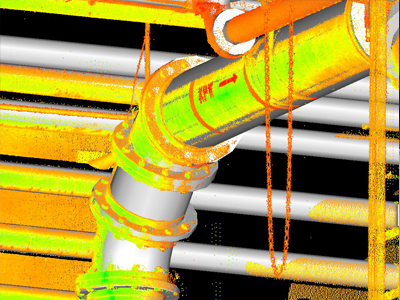 Engineers at Stanec Consulting Services were tasked with designing a new underground utility tunnel at NEORSD's Southerly Wastewater Treatment Center. The challenge was to connect the tunnel to an existing tunnel that contained a maze of pipes and conduits supporting the facility's utilities and process systems. Stantec called on KS Associates to conduct a survey and to develop a detailed map of existing conditions. 
Using point-cloud data from an earlier project at the SWWTC, KS survey technicians modeled the site in Revit. Their ability to re-mine a point cloud from a previous project eliminated the need to physically travel to the SWWTC. This saved time and reduced surveying expenses.  
KS Associates provided the design team with a 3D Revit model that accurately depicted the tunnel and its components. The model included details about the sizes and locations of pipes, beams, flanges, elbows, tees, and conduit, giving the designers a complete as-built depiction of their project — a rock-solid basis for design.
This project is just one example of how 3D laser scanning can expedite projects, reduce surveying costs, and provide significant detail to advance the design.