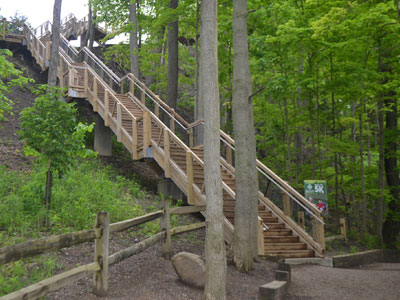 KS Associates assisted Cleveland Metroparks in restoring a popular attraction in the Rocky River Reservation that had been sorely missed. Cleveland Metroparks had to dismantle the Fort Hill Steps, a 135-stair structure that led park guests up a steep shale cliff to ancient Indian mounds and breathtaking views of the Rocky River. Erosion and gravity were causing significant movement of the cliff, which triggered safety concerns.
KS Associates' role on the project was to perform a survey of the 100-foot-tall cliff to measure the extent of erosion along the bank of the Rocky River and its impact to the Fort Hill trail stairs that ran along the clifftop. KS Associates determined that 3D laser scanning was the way to go for this particular assignment.
Using a 3D laser scanner, a single surveyor obtained ground elevations, hundreds of tree locations, and original stair foundation locations — all in one day. The scanner allowed the surveyor to collect all of the data necessary to create a reliable existing conditions map for the Design-Build team of E. L. Robinson Engineering and Schirmer Construction LLC. The scanner also improved safety — surveying operations were performed from safe positions along the bottom and top of Fort Hill, eliminating the need for safety harnesses, repelling gear, and additional personnel.