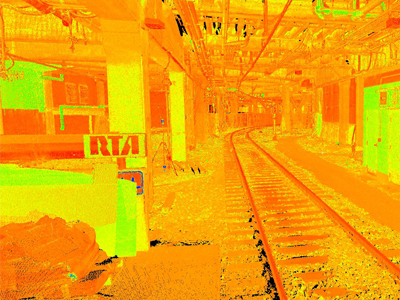 KS Associates contracted with TranSystems, Inc. and Greater Cleveland Regional Transit Authority (GCRTA) to provide surveying services for the project, Engineering Services for the Reconstruction of Track 8 and the Track 7 Auxiliary Platform at the Tower City Station.
KS Associates utilized 3D laser scanning to conduct an existing conditions survey for the project. Scanning minimized disruption to rail service, saved time, enhanced safety, and provided an enormous amount of data for the design team.
The beauty of laser scanning for this project is the scanner's ability to capture data in the dark. Even in the dimly lit areas beneath Tower City, the scanner performed effortlessly, capturing thousands of data points — including areas the design team may not have known they needed at the beginning of the project.
Laser scanning also improved safety. Surveyors were able to minimize time on active rail lines. And eliminating disruption to rail service was especially critical, considering Tower City is the busiest hub of RTA's rail network, with all rail lines converging here.